Your property has been loaded and secured in the truck; you are all ready to complete this big move. You trust in these people to transport your family heirlooms and furniture to your new home. But how well do you know that these movers are on the level? Not many people take into consideration that there exists those who pose as a moving company only to steal those things that they claim they are transporting. These "Rogue Movers" are a problem that does not seem to be subsiding. We would like to give you some tips on how to avoid falling victim to this classic con-job.
Online Research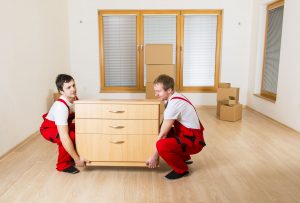 It seems pretty obvious but going online and seeing what the details given to it via a website is a great place to start. A site will help show you the authenticity of the company through set prices, home location, contact information and more often than not a page for customer rating. Most con groups will not go to this extent to try and rob others.
Get a referral
If you are moving and are unsure what company is best to help, or you can trust, ask around. Try and get a referral from someone you know and can believe, family member or a close friend. You can even go to the moving company's website and read over the customer referral's it may have. Though these can be faked, make sure to use your best judgment and make sure if you notice anything weird, a lot of straightforward and apparent fake names or repetitive quotes; this can be a warning of a potential con.
If these do not work, a great site to visit is MovingScam.com. This website is dedicated to shining a light on moving scams before they happen to you.
The Signs of a Bad Mover
According to Federal Motor Carrier Safety Administration (FMCSA), there are signs that the company is a rogue mover:
The mover doesn't offer or agree to an on-site inspection of your household goods and gives an estimate over the phone or Internet—sight-unseen. These estimates often sound too-good-to-be-true. They usually are.
The moving company demands cash or a large deposit before the move.
The mover doesn't provide you with a copy of Your Rights and Responsibilities When You Move; booklet movers are required by Federal regulations to supply to their customers in the planning stages of interstate moves.
The company's website has no local address and no information about licensing or insurance.
The mover claims all goods are covered by their insurance.
When you call the mover, the telephone is answered with a generic "Movers" or "Moving company," rather than the company's name.
Offices and warehouse are in poor condition or nonexistent.
On moving day, a rental truck arrives rather than a company-owned and marked fleet truck.
Southwest Movers
At Southwest Movers we love helping people move. If you are younger and not attached to an area, we highly recommend moving somewhere crazy and getting to know people somewhere new. But if you are looking at staying close to family or jobs, it doesn't hurt to find smaller communities and increasing your commute. IF you have any questions at all, give us a call!